Ozwater Sponsorship
Organisational opportunities to share, connect and inspire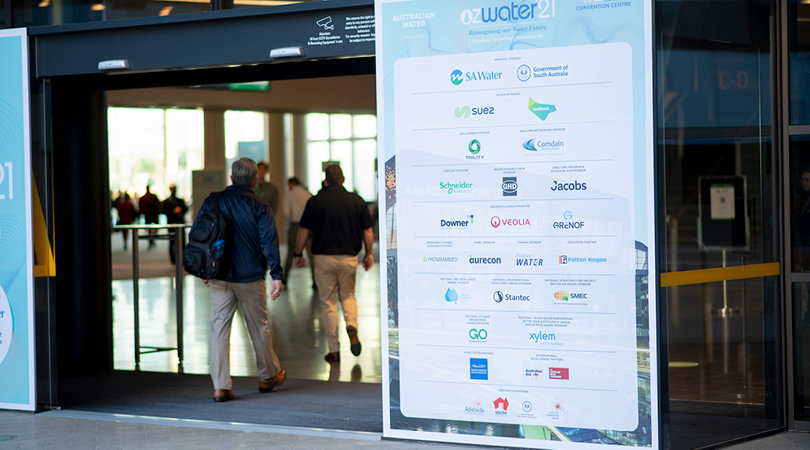 Be an Ozwater sponsor
Ozwater is the premier event on the water calendar and a key opportunity to connect, share and inspire while you showcase your organisation.
Sponsoring at the event, in the lead-up and beyond the last drinks raises your industry profile and formalises your support of Australia and the international water sector.
Your Ozwater sponsorships help bring people, businesses and governments together to collaborate on driving a sustainable water future.
Frequently Asked Questions
---
Sponsorship offers a range of benefits.

Increase Brand Visibility
Ozwater is a unique platform for engaging with AWA members and non-members before, during and after the event. Sponsorship gets your brand in front of audiences working with water.
Target Your Marketing
Ozwater attendees come from all areas of the water sector. Depending on your organisation's key target audience, you can engage directly with:
Water utilities and authorities

Local, state and federal government agencies

Regulators

Energy providers

Universities and research organisations

Manufacturers and suppliers

Laboratories and water testing companies

Mining and resources

Agriculture, aquaculture and irrigation

Technology and IoT (Internet of Things)

Infrastructure partners

Specialist contractors, consulting and advisory companies.
Feed Your Content Strategy
Sponsorships provide fresh content for your own organisational marketing activities. Connect with us on social media to find target audiences aligned to your business goals.
Build Relationships
Sponsorship empowers your company to make connections with complementary businesses and open the door to collaboration and partnerships.
Positive Positioning
Sponsorship strengthens your company profile: many businesses prefer to support brands that invest in industry events.
Ozwater officially starts on Tuesday, 30 April 2024 and concludes on Thursday, 2 May 2024.
Please use our contact us form and select 'sponsorship' as your area of interest.
We encourage you to promote your sponsorship across your marketing channels. Use these digital assets on your organisation's social media, website and emails.
- Promotional Assets Coming Soon -
Remember to tag @australianwaterassociation and use #Ozwater #AustralianWaterAssociation
No. However, priority and first right of refusal is offered to members.